Instead of just blathering on about the last few weeks, I thought that I'd highlight some of the adventures since Labor Day in a more visual manner (don't worry - I did, of course, blather on at length). Read on for more...
We ended the Summer by traveling to NYC for the 2007 US Open. I've
blogged about this previously
, but thought it was worth noting. We had a very good time, saw a lot of good tennis, got lots of pictures of big names players, and were just generally satisfied.

About a week or two after getting back from NYC, and literally 1 day after giving notice at AOL (see below), I injured my back. After detailed examination by my orthopedist, including X-rays and CT-Scans, she concluded that I had a "full avulsion of the C7" - meaning, basically, that the little bone tail of the C7 vertebra snapped off and embedded itself in the nearby soft tissue. It's now been over a month and I'm still dealing with muscle spasms in my back and shoulders, for which I'm getting a weekly deep tissue massage. Things seem to be improving, but it'll probably be a long road to full recovery. One physio suggested that the bone, now dead, may simply dissolve over time. That would sure be nice.

A few weeks ago, after the back had been injured, but before my last day at AOL, I had a chance to see my favorite music group, Storyhill. I first saw the guys perform in 1994 while at Luther, and have enjoyed their music and following their careers ever since. They originally hail from Montana, which meant that when we lived there, we suddenly appreciated their music that much more.


On the down side, there was an opening act that drew more people - most of whom left at the beginning of Storyhill's performance. Storyhill has a reasonably strong following in the Midwest, Rockies, and Northwest, but they're not well know out east at all. Also working against them was a Washington Redskins game on Monday Night Football, against Philly, at Philly, which is only 3 or so hours away. Tough draw. These guys are really nice and excellent musicians. They seem to be nearing a crossroads in their careers, though, where they need to decide whether or not they want to shoot for a big time career, or if it will be enough to remain niche performers who are farther down the musical long tail. 'Twill be interesting to see what they choose.

As I've mentioned before, I decided to leave AOL in mid-September. My last day was Tuesday, September 25th, literally 2 weeks to the day after giving notice. My last days there were bittersweet as it's become increasingly evident that the company is not doing well and about to go through a radical change. Reading the news reports since then, it seems that the most likely result will be a spinoff of the advertising business, with who knows what happening to the rest of the company. I would have to think that the advertising workforce only represents 25% or less of the overall headcount, which means hard times ahead for those sticking it out.


On Thursday, September 27th, I began my new job with BT-INS. I'm working as the security practice lead for the Chesapeake Operation, currently based out of Lansdowne, VA. As of this past Monday (10/1), I'm already working full-time on a client engagement. This first full week has been eventful, finding out all sorts of things about the company and the tools and offerings that we have available to consultants internally.
Perhaps the most interesting thing is the realization of the universal principle: people do not read carefully or thoroughly. There were a few email exchanges within the global practice mailing list where questions were posed and incorrect answers were given, both because people did not read, did not understand, or did not communicate effectively. We were able to push through and resolve questions satisfactorily, which I believe will set us up for a successful engagement and delivery of services.
It's Fall (despite what the temps indicate), so that means it's time to go get apples and apple pie! We love to drive up to Maryland to the
Catoctin Mountain Orchard
a couple times each Fall to get fresh apples and fresh baked apple pie (especially the Apple Crumb). We went up a couple weeks ago, on a brilliantly crisp Fall day, thoroughly enjoying the drive and the weather. We hope to make another trip up tomorrow, weather permitting. It's hard to think of it as Fall right now with high humidity and temperatures running close to 90F.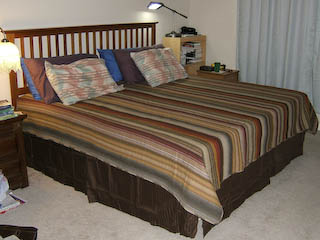 We've been talking for months about getting a new bed, and so, with my back injury, it seemed that now was the time to make the change. We had tried to supplement our old bad with a memory foam topper last Winter, but the underlying mattress was simply too worn out and rutted. So, we bought a Tempur-Pedic Deluxe king size bed set. I signed the papers on Monday, September 24th, and we took delivery a week ago (Saturday, September 29th). It's wonderful! :)
Of course, buying a new bed of a new size means shopping for new bedding! We spent (way too much) over at Bed, Bath, and Beyond, but I think Hanna is happy with what we purchased. New sheets, new bed spread, a bed skirt... Oh, and because Tempur-Pedic tightly regulates pricing on their beds, Mattress Discounters threw in a bunch of extras. We paid for the mattress and a new headboard. Included for no extra charge were the box springs (split), the bed frame (basic), 2 Tempur-Pedic pillows (neck pillow for Hanna, Symphony for me), 2 Sealy king size pillows, 4 waterproof and hypoallergenic pillow cases (2 king, 2 standard), and 2 waterproof and hypoallergenic mattress covers (to prevent stains, which apparently void the 20-year warranty). Also included, standard, was free delivery and free disposal of our old mattress, frame (bent), and headboard. Oh, and on top of it all, 12 months 0% financing. So, not too shabby.

This month marked a major milestone in my computing history. As of about a week ago, we are now a Mac-only household! I decommissioned my aging Windows PC, replacing it with an Apple Mac Mini, like the one pictured here. It has a 2GHz Intel Core 2 Duo chipset, 2GB RAM, a 150GB internal harddrive, a CD-RW/DVD-RW Superdrive, and 4 built-in USB 2.0 ports. To this I've added an external USB hub (didn't realize there were 4 in it already - my old Mini only has 2), and a couple external harddrives (for backups, additional file storage, and file import from the old PC). Aside from the built-in software, I've added the following: Firefox, Thunderbird, Rsyncx, Passwordsafe/Password Gorilla, MPEGStreamer, Adium, Microsoft Office 2003 for Mac, and Adobe Photoshop Lightroom. I also (perhaps prematurely) purchased 2 licenses for Parallels, in case I find a need to run Windows again (1 copy for me, 1 for Hanna). Hanna's had a Mac laptop for over a year now, but I final decommissioned her old Windows box a couple months ago (after moving data over). Thus far, she's not indicated a need for Windows (though at least one of her school programs only runs on Windows, which may necessitate installing Parallels on her machine).
Overally, I'm quite happy with my setup. The next step will be taking a bunch of my old computing equipment to the PC Recyclers.

Last, but not least, a highlight of last night. It was about 10:30pm, we were catching up on recorded TV shows from the week, feeling sleepy, almost ready to call it a night when the night was pierced by the building fire alarm. ACK!!!! So, I grabbed backup drives and keys and cell phone and slipped on shoes and headed out (with Hanna, of course). I called the apartment after-hours maintenance line while another tenant called 911. About 5 minutes later the Fairfax County Fire Department showed up. They quickly determined that someone had pulled the fire alarm on the 2nd floor. GRRR!! Thursday night some random college punk had stopped by asking for signatures to support his trip to Cancun over Spring Break. He tried to say that he lived in the area, but when I tried to ask questions to get more info, he was evasive, flippant, and unable to maintain eye contact. My guess is it was probably some fraternity hazing ritual, but it also seemed a lot like a scam. When the FCFD said the alarm had been pulled, I just had to wonder if a certain punk kid wasn't upset that he'd been told "sorry, no thank you" when he knocked on my door (and possibly others).
And that, shall we say, is a wrap. You're now officially caught up on the last few weeks. Up next, I need to get caught up on really security topic blogging! :)